1. Hover over the main menu until you see a gear icon on the top right of the menu block.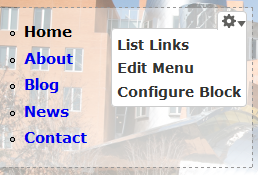 2. Click the gear icon and select List links.

On this overlay you can:
Click and drag the cross icon to move a link up or down in the order.
Drag a link to the right to make it a subordinate to the one above.
Click edit to change information about the link.
Uncheck the Enabled box to disable the link.
Click delete to permanently remove the link.
You can also add new menu links. See the next FAQ, How do I add a menu link?